Koy Tuna - basil Signature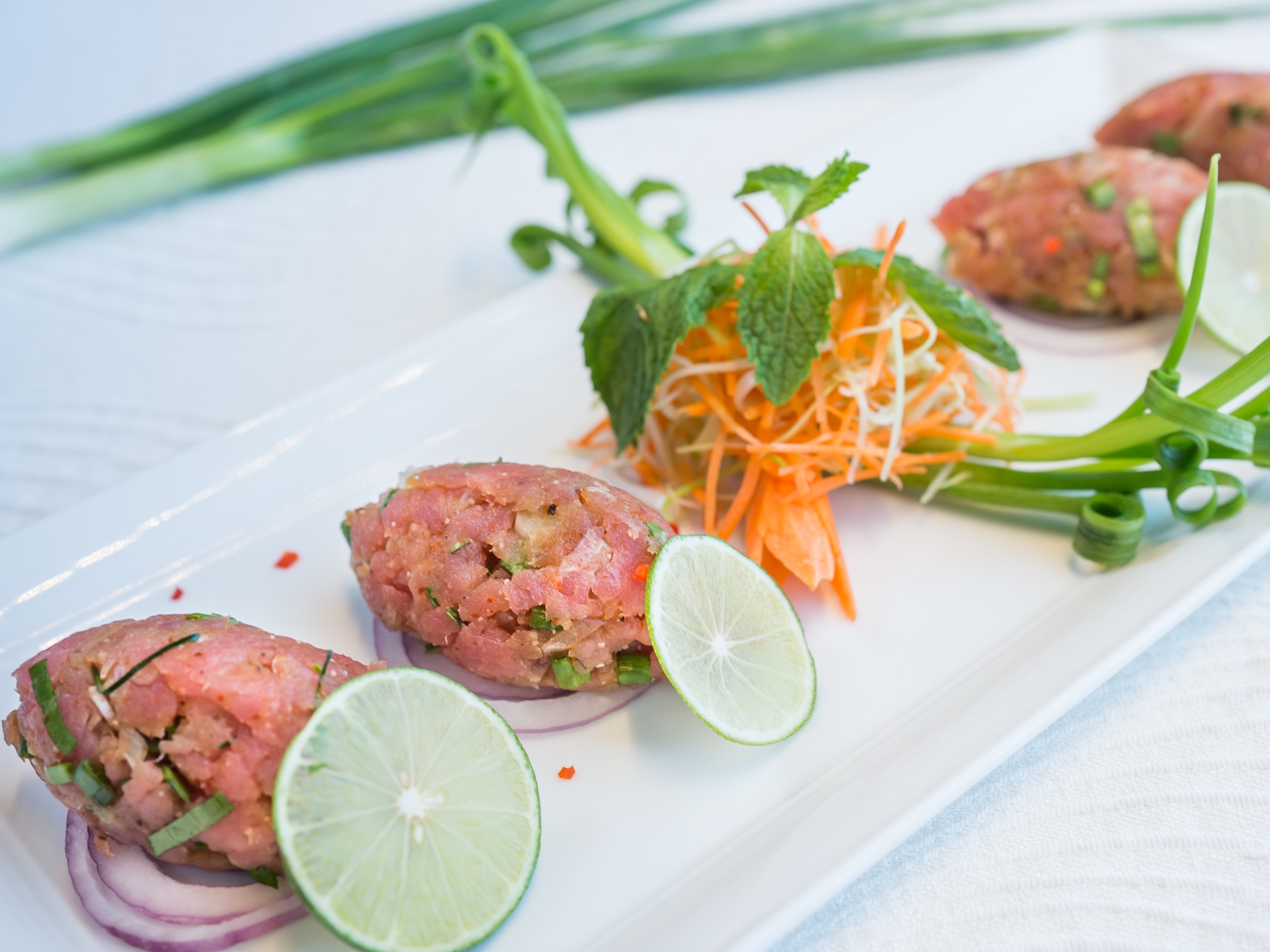 Discover basil's Signature Spicy Tuna Tartar
The culinary team at basil invite you to discover the award-winning restaurant's signature, koy tuna, a delightfully spicy tuna tartare that has discerning diners coming back for more.
The deceptively simple dish was inspired by the culinary heritage of northeast Thailand and succeeds in capturing the very essence of basil's philosophy through purity of ingredients, sublime flavor combinations, and creative presentation. A beautiful balance of textures and fresh, complex flavors, basil's koy tuna quickly became a favorite among diners, and was soon known as the restaurant's "signature dish". It is the dish that lovers of Thai cuisine talk about before they order it, while they're enjoying it, and after they've eaten it.
An authentic koy is commonly made with raw or cooked freshwater fish. The team at basil elevates this humble but delicious dish to new heights with the use of premium quality sushi-grade tuna loin.
Cut into a fine dice, the tender raw tuna is enhanced by an authentic northeast Thai blend of ground roast rice powder for texture and aroma, chili powder for heat, fish sauce for saltiness, and lime juice for acidity. Prepared fresh and with speed, the resulting dish is a complex balancing act performed by a master chef with an intuitive touch and decades of experience.
At basil, presentation is of equal importance to taste. The diners, after all, feast first with their eyes then with their palate. Served on a white plate, a generous quenelle of blush-red tuna is carefully placed on finely sliced rings of shallot and topped with a slither of lemon. The vibrant dish is further enhanced with a complementary green dash of spring onion, snake beans, and sprigs of mint and Thai basil.
basil's contemporary styling, the use of beautifully tender tuna and her precise mix of local herbs and spices make koy tuna one of the most popular dishes at basil among health-conscious diners and lovers of exceptional Thai cuisine. A personal signature of a gifted chef, the dish is an essential part of an unforgettable and authentic dining experience at basil.