Thai food is one of the world's most distinctive and well balanced cuisines.
Our resident Thai Master Chef Khun Kesinee offers a fresh approach to Thai Cuisine finely balancing a blend of bold flavors and quality ingredients, served with genuine warmth in a contemporary setting.
Our dining experience covers the four major influences of Thai cuisine as seen in the North (Chiang Mai), North-East (Isan), Central (Bangkok) and the South (Phuket) - of this country's rich culinary heritage. We think you will agree that every meal here is a celebration of the art of Thai cooking.
basil Favorites
North of Thailand
North Eastern Thailand
Central Thailand
South of Thailand
basil Grande Dessert
basil Vegetarian
Children's Menu
basil Favorites
Appetizer
Thod Mun Ruam - 420
deep fried crab, prawn and fish cakes
Yum Nua Yang - 450
spicy grilled beef salad, onion, celery, cucumber, tomato
Salmon Yang Takrai - 480
grilled marinated salmon, lemongrass
Gai Hor Bai Toey - 370
deep fried chicken in pandan leaf
Poo Nim Klook Nga Thord - 440
deep fried soft shell crab with sesame seeds served with tamarind sauce
Soup
Tom Yum Goong Mangkorn - 1600
spicy, sour lobster soup with thai herbs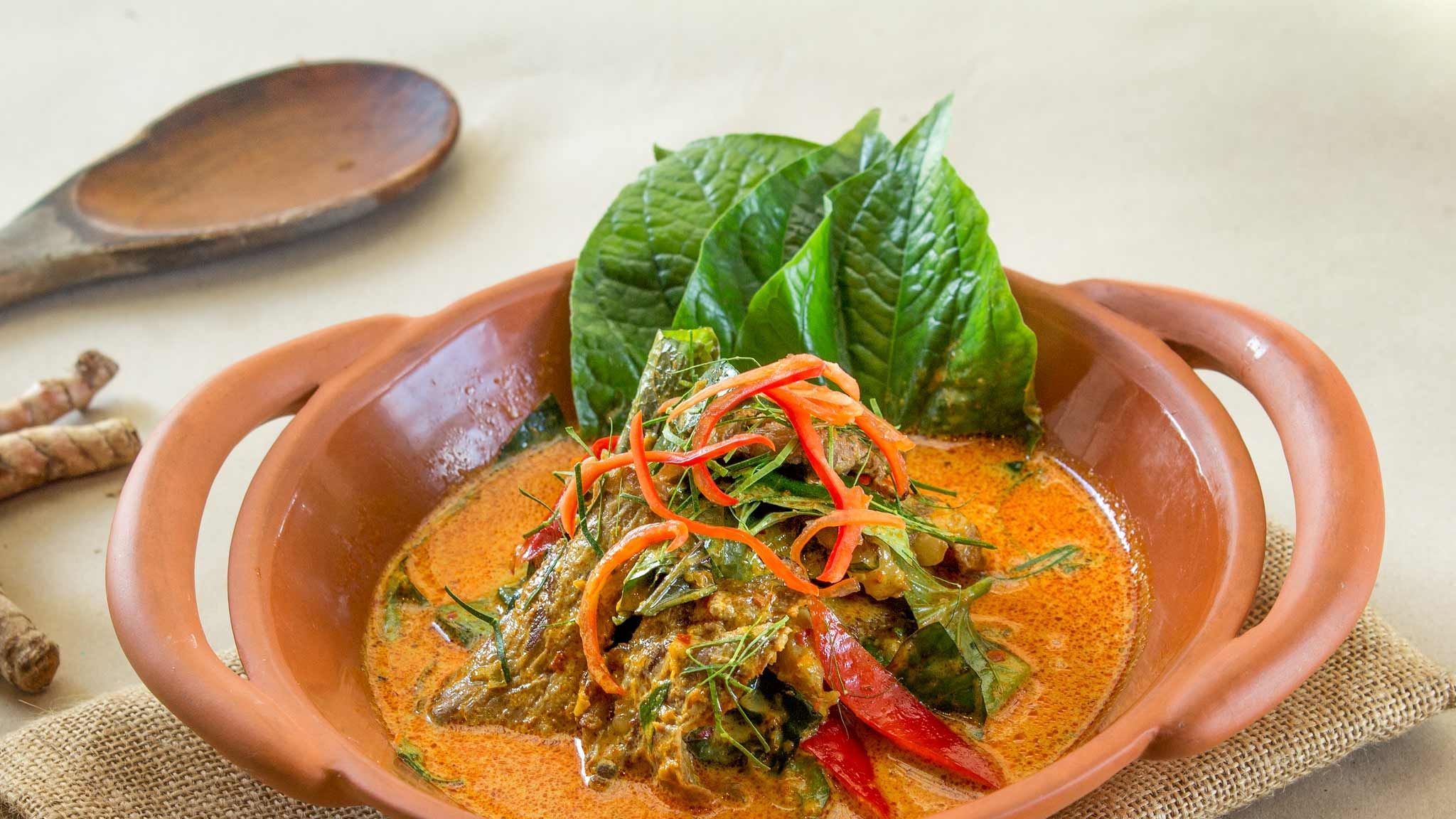 Curry
Mussaman Gae - 490
lamb curry with peanut and potato
Traditional Mussaman Gai - 420
chicken curry with peanut and potato
Choo Chee Nua Gam - 590
braised wagyu beef cheek in red curry sauce
Poo Nim Phad Pong Karee - 690
stir fried soft shell crab in mild yellow curry
Main Course
Poo Nim Thord Lard Sauce Horapha - 690
crispy soft shell crab with green peppercorn and basil
Pla Krapong Thord Gratiam Prik Thai Dam - 780
deep fried seabass with garlic and black pepper sauce
Pla Krapong Thord Sam Rod - 780
deep fried seabass with sweet and sour chili sauce
Goong Tipparod - 680
deep fried tiger prawn, tamarind sauce, sweet basil and dry chili
Gae Phad Kraprao - 620
stir fried australian lamb with chili, garlic and hot basil
Ped Phad Nam Makham - 390
roasted duck breast with tamarind sauce
Khao Phad Sapparod Goong - 390
fried rice with pineapple, prawns and cashew nuts
Phad Thai Goong - 390
stir fried rice noodles with king prawns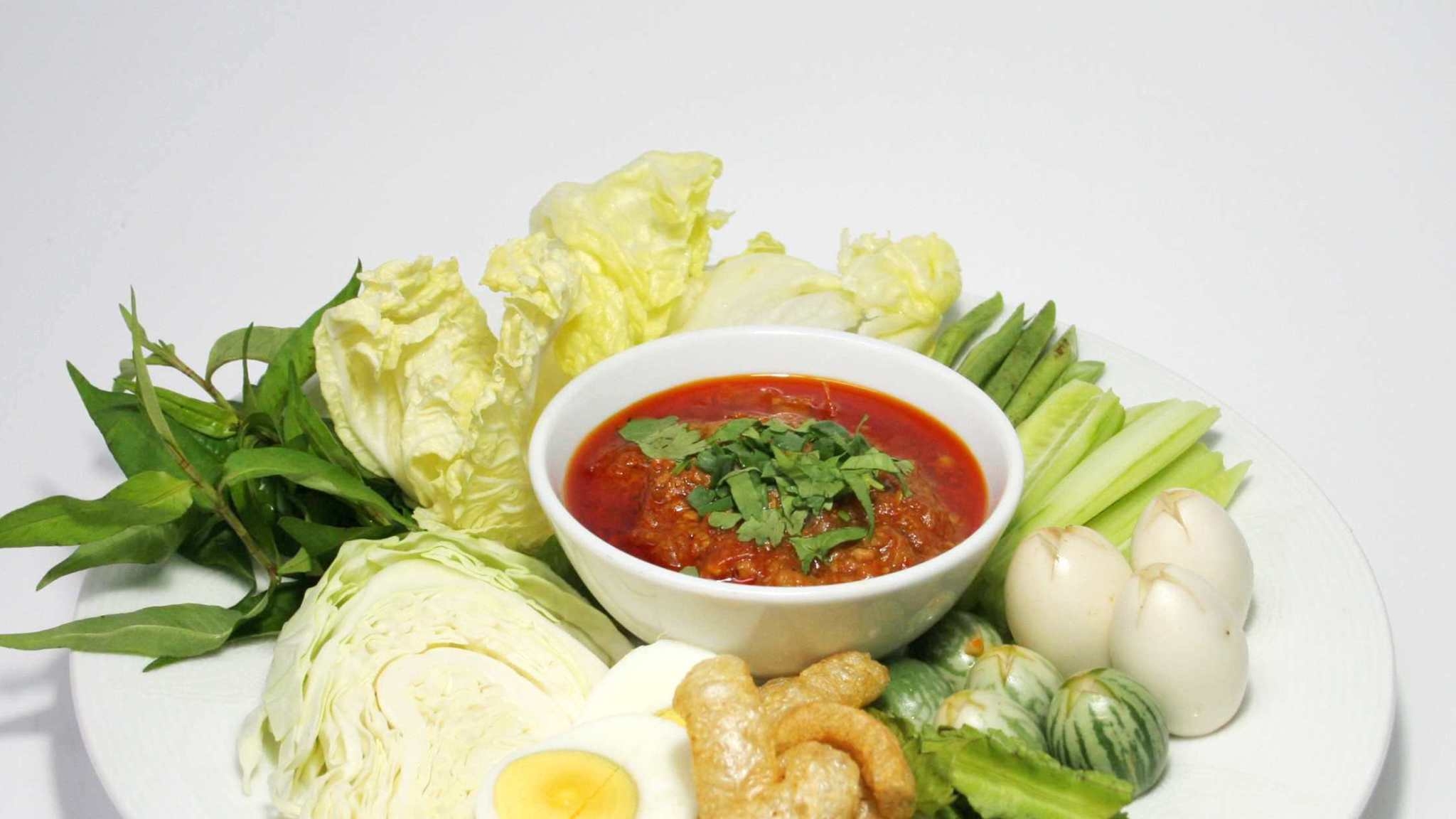 Vegetable
Nam Prik Ong - 420
grilled pork, tomato chili dip served with mixed vegetables
Phad Yord Mara - 310
stir fried chayote vegetable, light soy sauce
All dishes are authentically spiced. Upon request Chef Kesinee can adjust the menu to your your preferred spice level. If you have any special dietary needs, please inform our service team. All prices are subject to 10% service charge and 7% government
North of Thailand
Five Course Sharing Set Menu - THB 1,600 per person
Kong Kin Len - Chef's Welcome Teaser
Naem Klook Foon - 350
deep fried sour pork sausage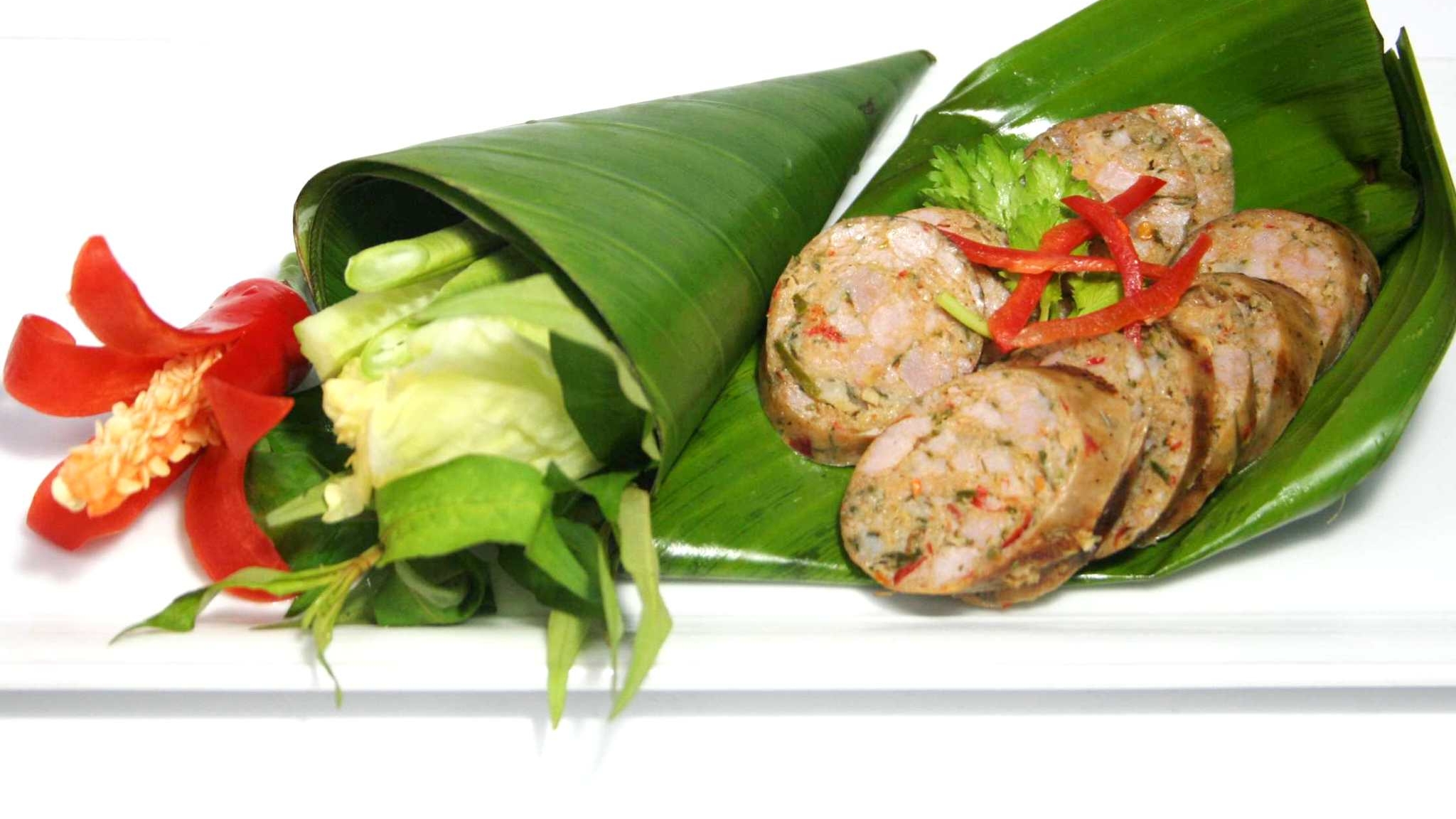 A Trio of Appetizers
Yum Gai Sai Huaplee - 420
steamed chicken and banana blossom salad
Yum Makua Nua Yang - 420
spicy royal project eggplant with grilled beef salad
Sai Aua - 350
grilled chiang mai pork sausage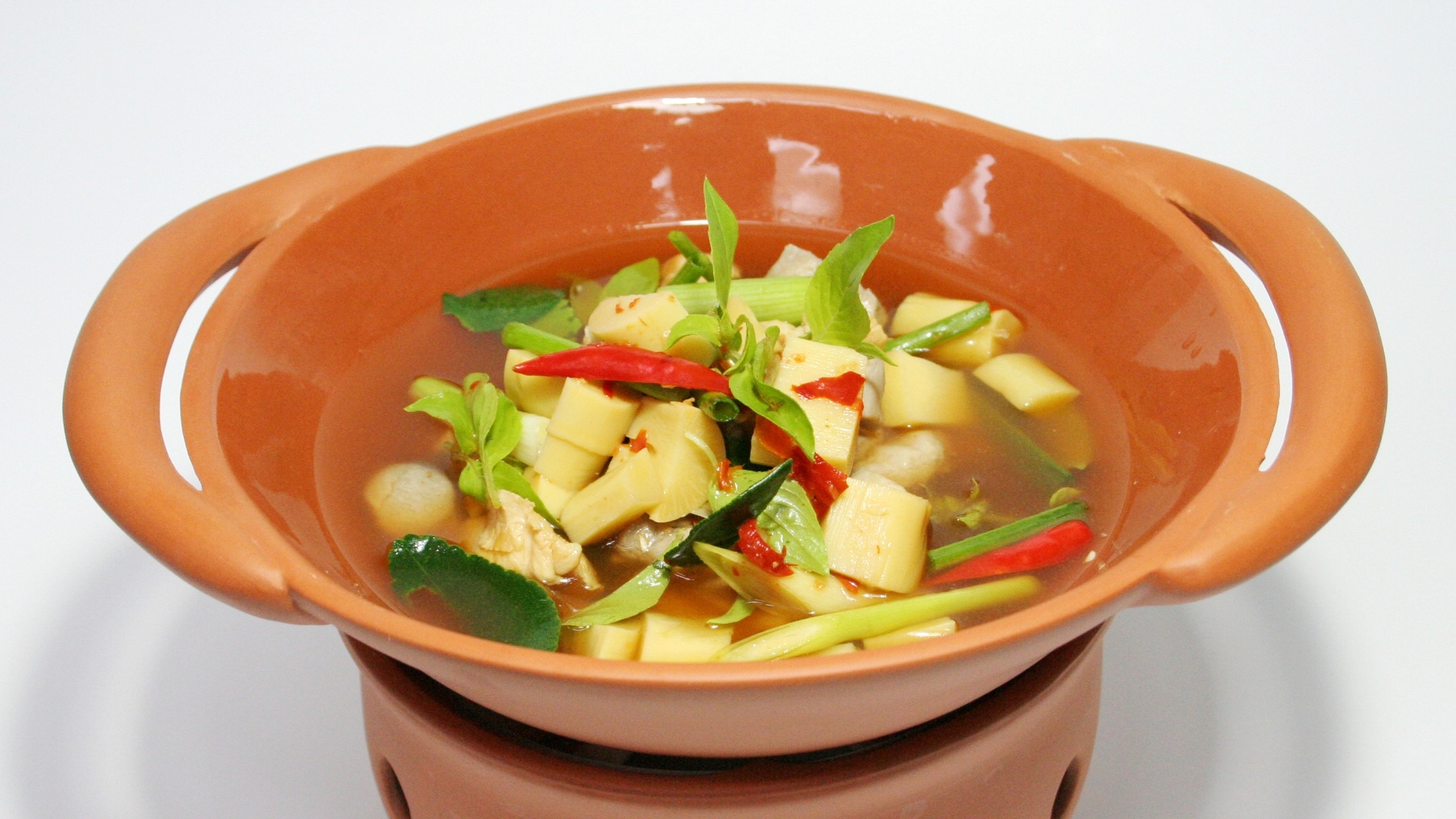 Soup
Gaeng Om Gai Tok - 390
spicy royal project pheasant broth with mushrooms, lemongrass and thai herbs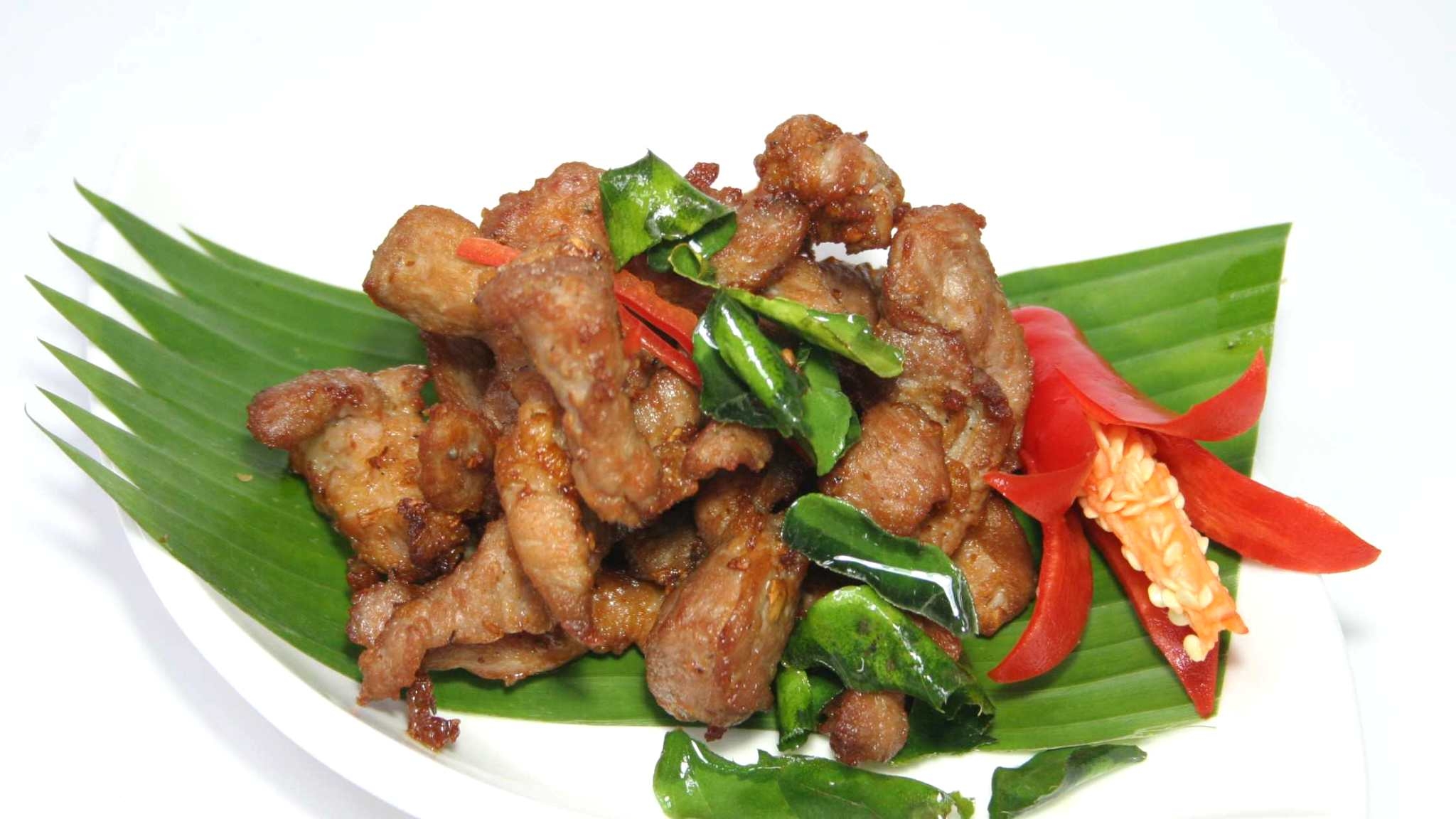 Main Course
Moo Thord - 450
deep fried marinated pork, northern spices
Gaeng Kare Gai - 450
simmered mixed vegetables, chicken in chili paste, northern style
Larb Nua - 450
northern style minced beef salad, chili, herbs
Phad Look Mala Sai Kai - 390
stir fried young chayote vegetable with egg
Grande Dessert Trolley
Served with hot lemongrass tea infusion
All dishes are authentically spiced Upon request Chef Kesinee can adjust the menu to your your preferred spice level. If you have any special dietary needs, please inform our service team. All prices are subject to 10% service charge and 7% government
North Eastern Thailand
Five Course Sharing Set Menu - THB 1,800 per person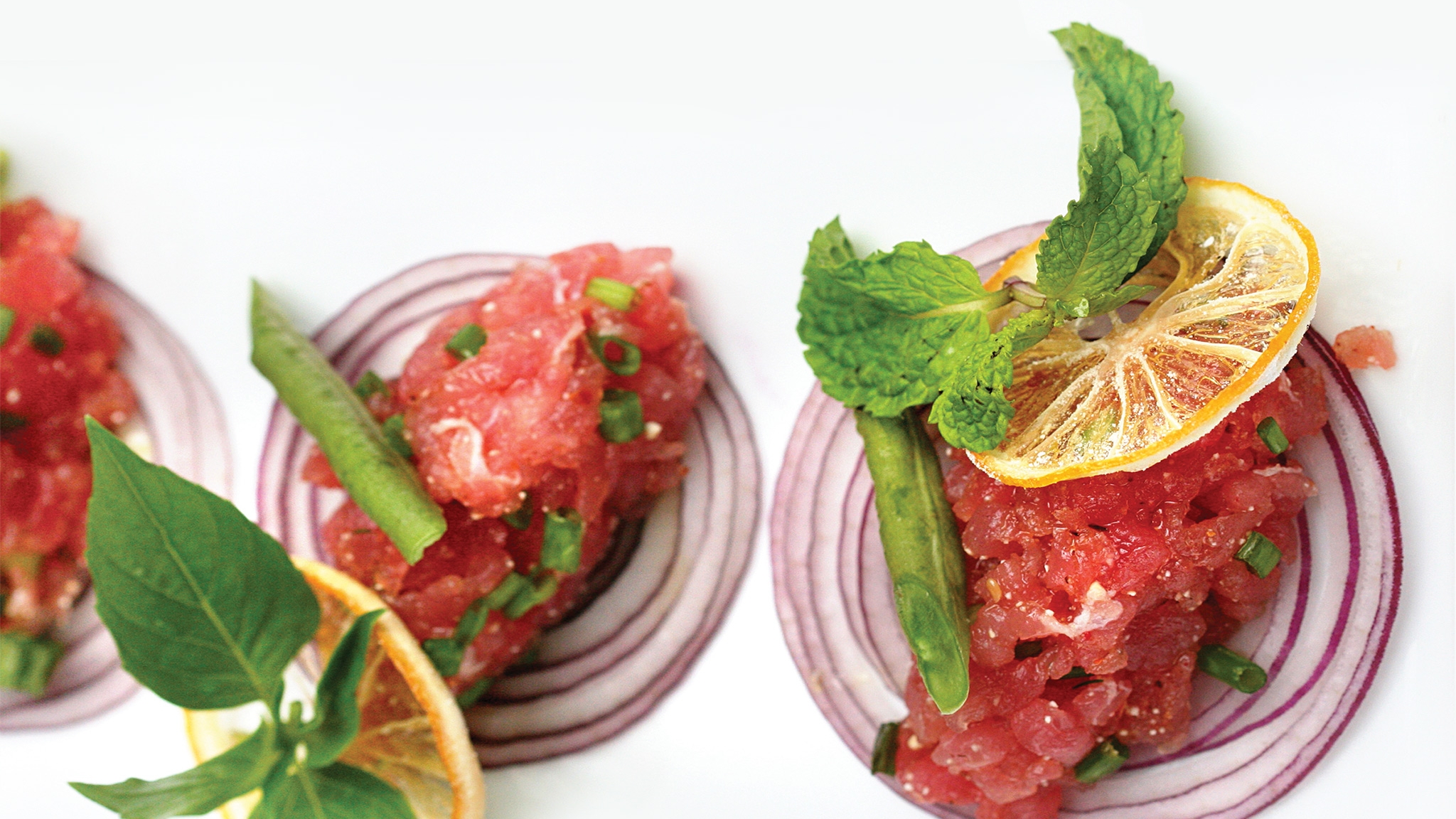 Kong Kin Len - Chef's Welcome Teaser
Koy Tuna - 430
spicy tuna tartar isan style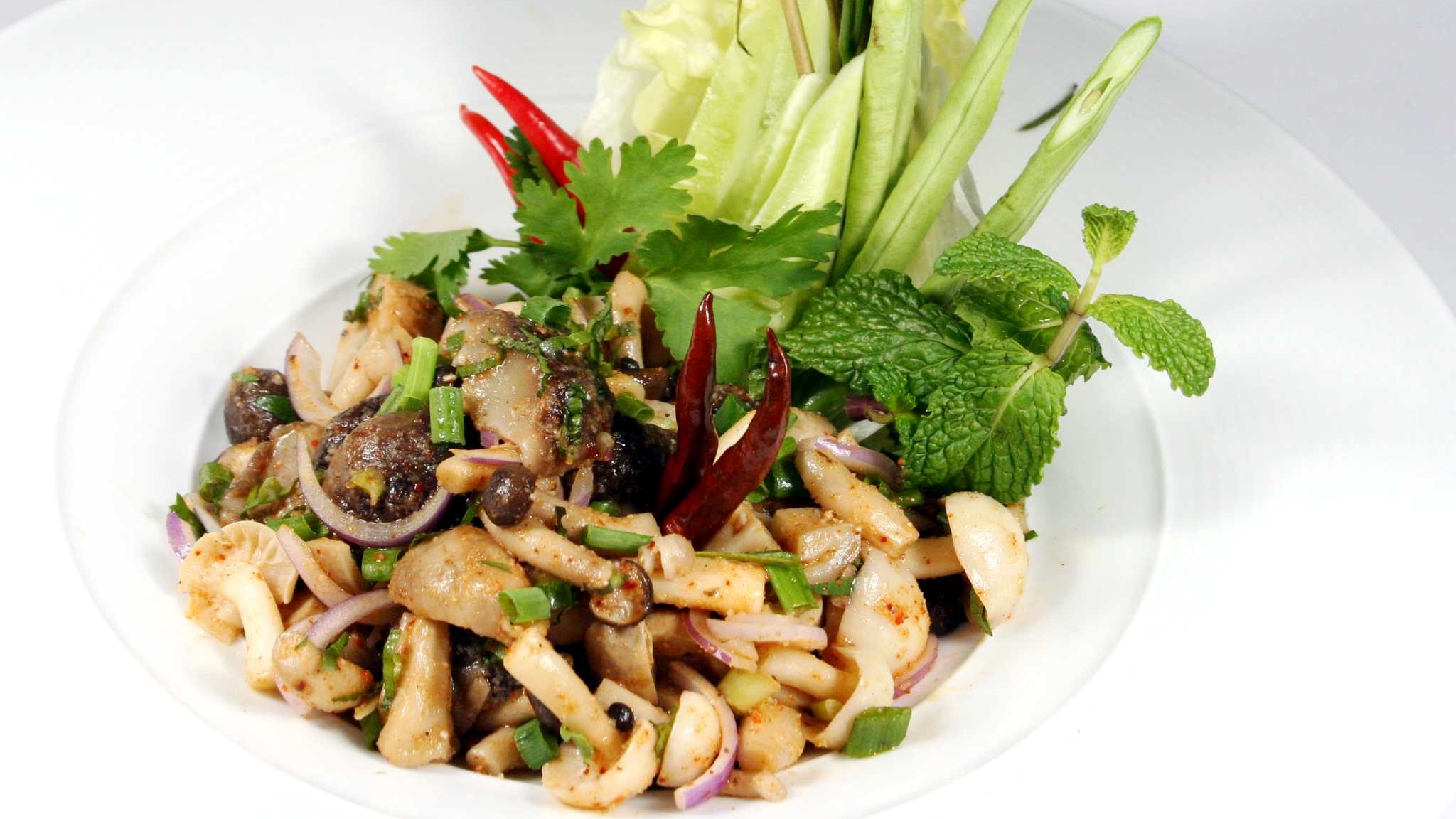 A Trio of Appetizers
Larb Hed - 400
grilled mushroom, salad, chili, rice powder, shallot, mint, parsley
Som Tum Ruam Gai Yang - 420
spicy salad of green papaya, coconut palm heart, green apple, served with grilled marinated chicken
Kor Moo Yang - 390
grilled marinated pork neck with chili dip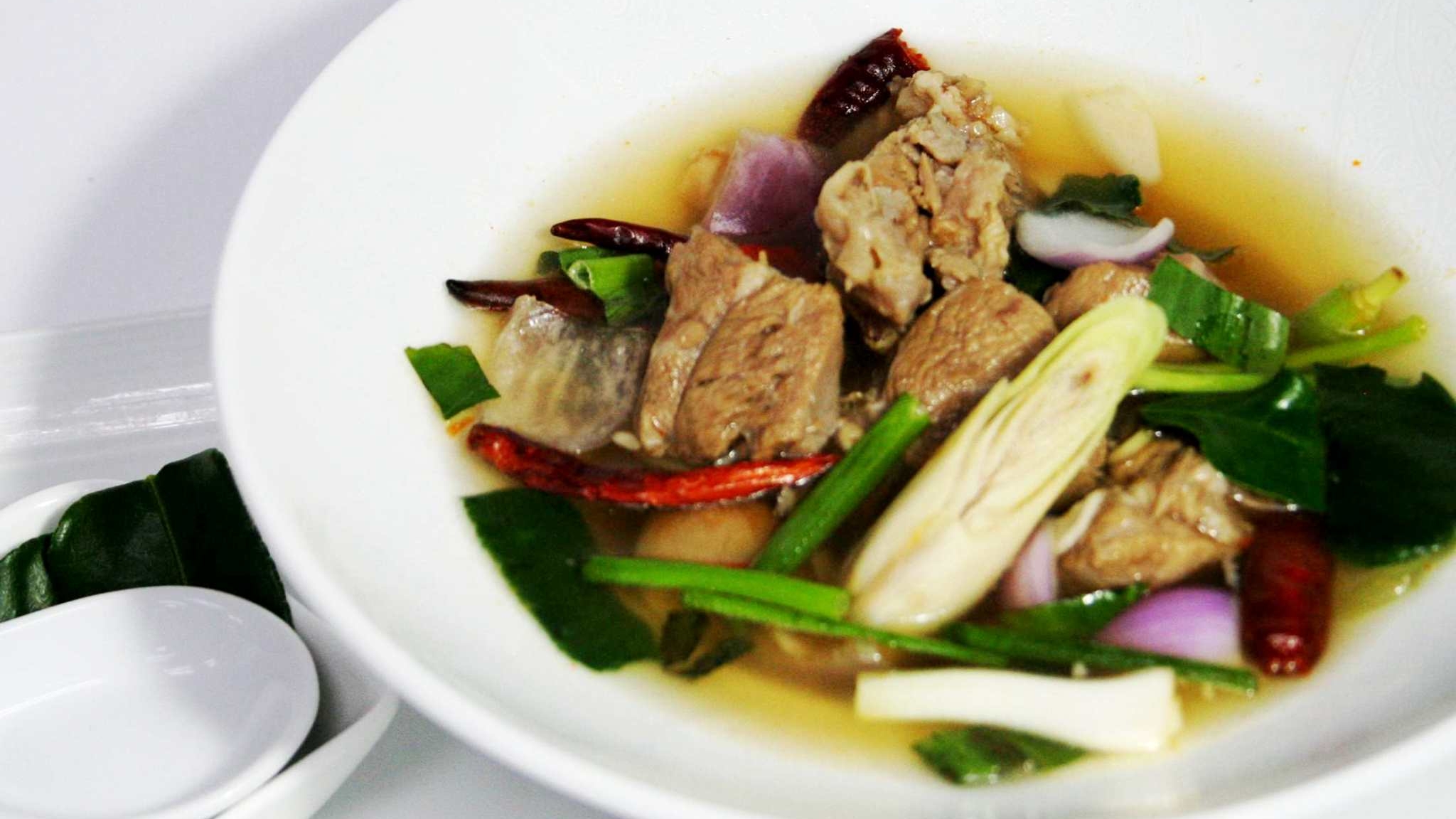 Soup
Tom Saeb Nua - 390
spicy beef broth with mushrooms, lemongrass and thai herbs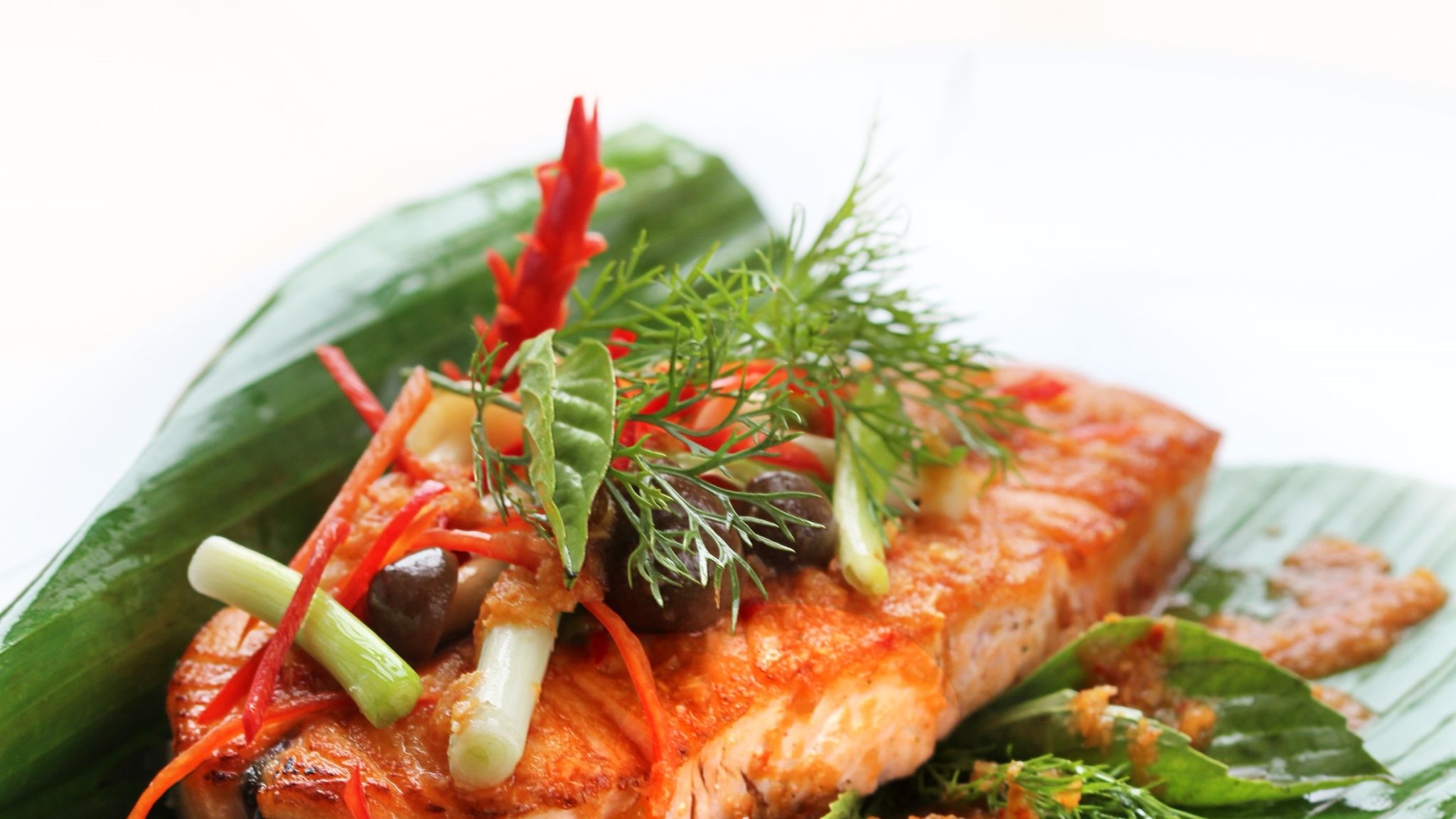 Main Course
Gaeng Normai Gai - 420
chicken in red curry with bamboo and sweet basil
Mok Pla Trout - 780
baked thai royal project trout, chili paste, dill, scallion, basil, isan style
Nam Tok Nua Yang - 550
spicy beef salad, chili, shallot, roasted rice powder, isan style
Phad Pak Boong - 310
stir fried morning glory
Grande Dessert Trolley
Served with hot lemongrass tea infusion
All dishes are authentically spiced. Upon request Chef Kesinee can adjust the menu to your your preferred spice level. If you have any special dietary needs, please inform our service team. All prices are subject to 10% service charge and 7% government
Central Thailand
Five Course Sharing Set Menu - THB 1,800 per person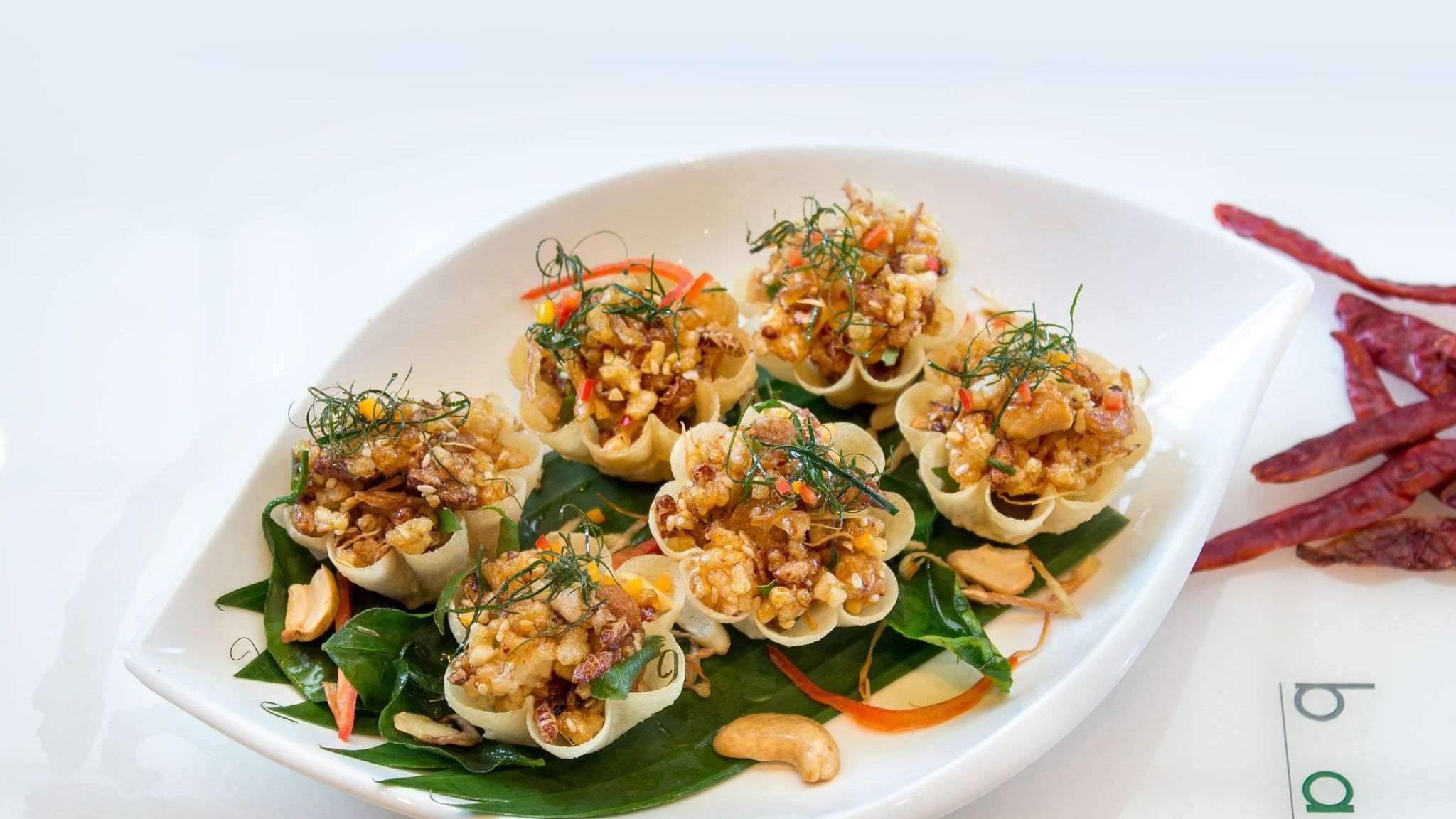 Kong Kin Len - Chef's Welcome Teaser
Khao Samunprai - 300
spicy crispy rice, siamese herbs
A Trio of Appetizers
Yum Som O Taohu - 390
pomelo and water chestnut salad with tofu
Yum Mamuang Pla Samlee Rue Poo Nim Thord - 460
spicy green mango salad with choice of crispy cotton fish or soft shell crab
Goong Sarong - 460
deep fried marinated prawns wrapped in noodle
Soup
Tom Yum Goong - 420
spicy prawn and mushroom soup, tom yum herbs
Main Course
Hoy Shell Prik Thai Dam - 670
stir fried scallop with black pepper sauce
Gaeng Phed Ped Yang - 420
roasted duck in red curry with apple and basil
Pla Neung Manao - 780
steamed seabass with garlic, chili and lime sauce
Phad Pak Ruam - 310
stir fried mixed vegetables in light soy sauce
Grande Dessert Trolley
Served with hot lemongrass tea infusion
All dishes are authentically spiced Upon request Chef Kesinee can adjust the menu to your your preferred spice level. If you have any special dietary needs, please inform our service team. All prices are subject to 10% service charge and 7% government
South of Thailand
Five Course Sharing Set Menu - THB 1,900 per person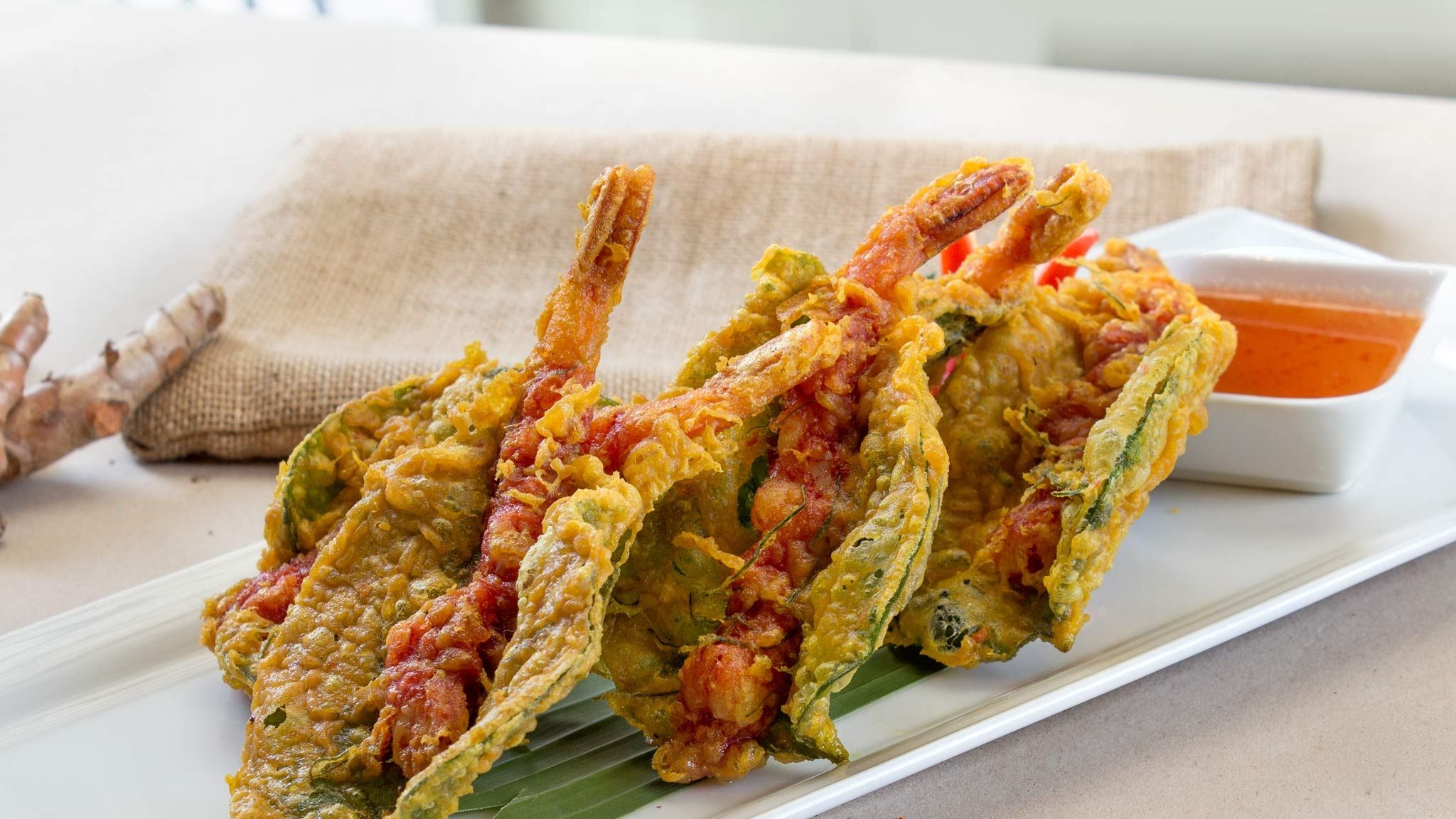 Kong Kin Len - Chef's Welcome Teaser
Goong Thord - 330
deep fried marinated turmeric prawn fritter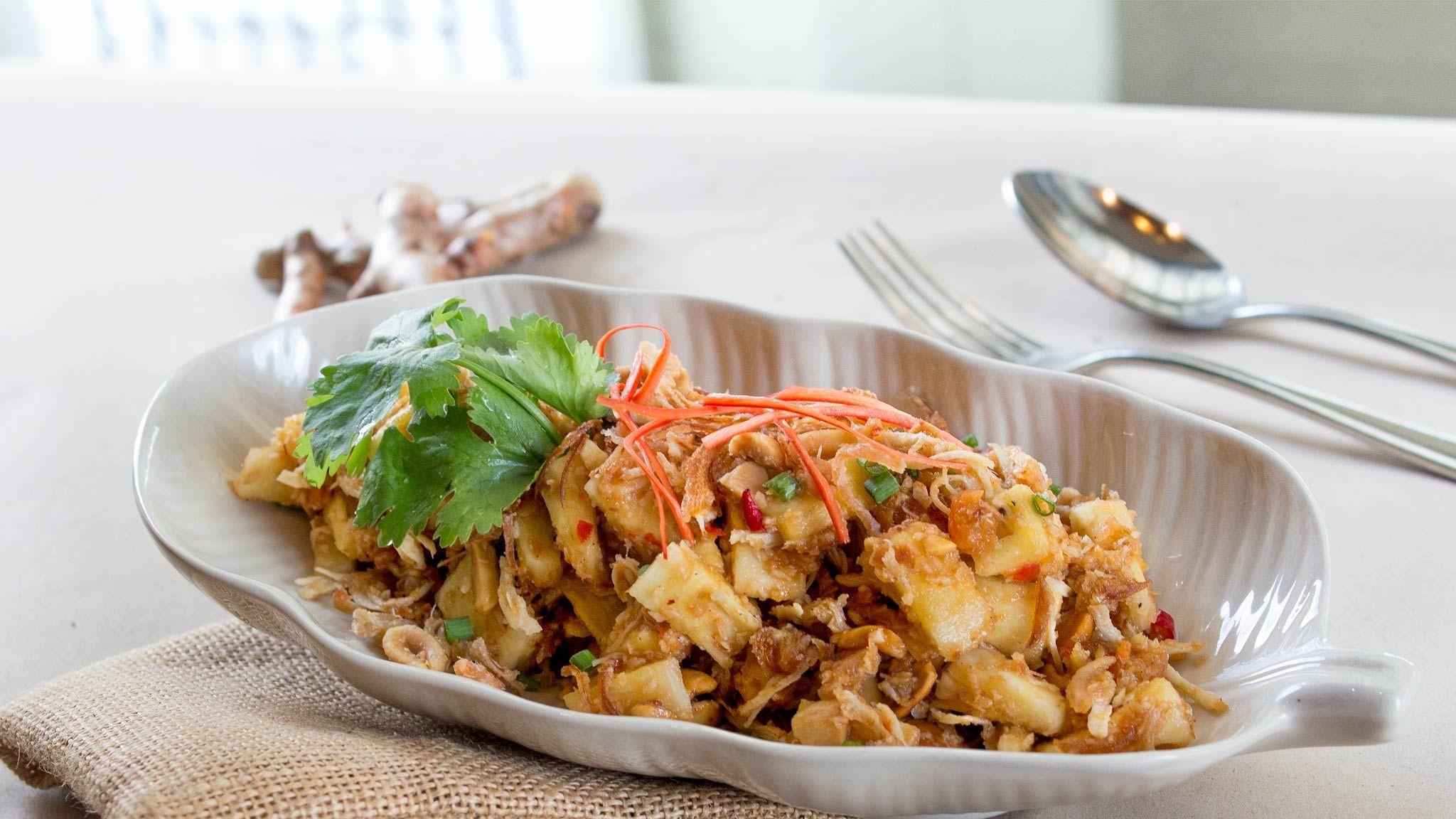 A Trio of Appetizers
Salmon Yang Takrai - 420
grilled marinated salmon, lemongrass
Yum Tua Ploo Pla Muek - 450
spicy wing bean salad with wok fried squid
Yum Sapparod Phuket Gai Cheek - 420
phuket pineapple salad with shredded chicken
Soup
Pla Tom Khamin - 450
spicy snapper soup with turmeric, southern thai herbs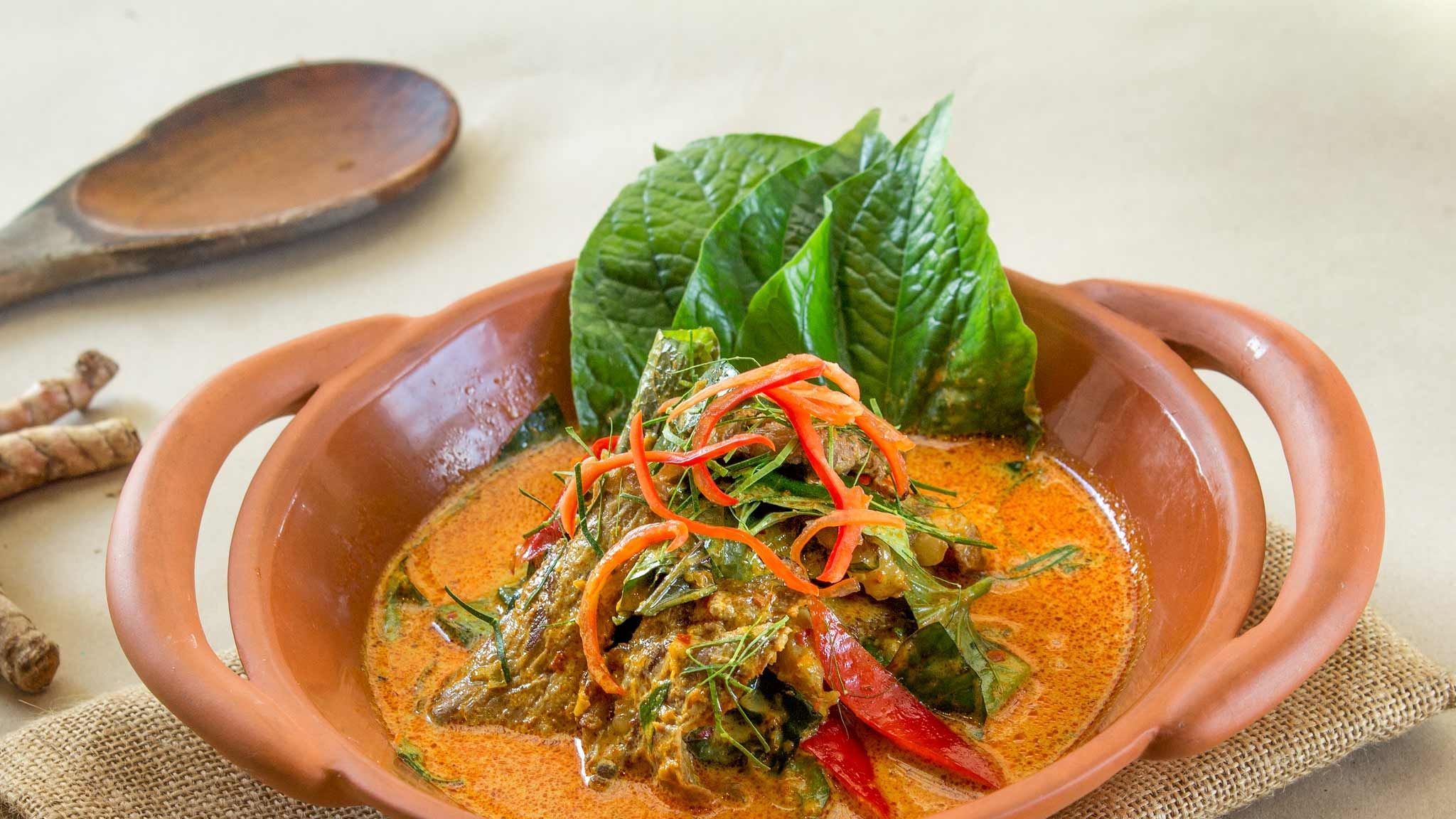 Main Course
Gaeng Kua Nua Yang - 520
grilled beef rib eye in turmeric curry, coconut milk
Moo Hong - 420
stewed pork side, southern style
Gai Yang Khamin - 420
grilled marinated chicken with turmeric and herbs
Phad Staw Moo Gai Rue Goong - 450
stir fried bitter bean, with chili minced pork, minced chicken or prawn
Grande Dessert Trolley
Served with hot lemongrass tea infusion
All dishes are authentically spiced Upon request Chef Kesinee can adjust the menu to your your preferred spice level. If you have any special dietary needs, please inform our service team. All prices are subject to 10% service charge and 7% government
basil Grande Dessert
Dessert
Khao Niew Mamuang - 300
mango with sticky rice
Crepe Bai Toey - 300
pandan crepes wrapped with shredded sweet coconut served with mango ice cream
Creme Brulee Mapraow Orn - 300
Coconut crème brulée
Fak Tong Sangkaya - 300
steamed pumpkin custard served with coconut ice cream
Tub Tim Krob - 300
chilled water chestnut dumplings in coconut milk with jackfruit
Kluay Kai Buad Chee - 300
banana in warm coconut milk
Homemade Ice Cream - 230
home made seasonal fresh fruit ice cream or sherbet
All dishes are authentically spiced. Upon request Chef Kesinee can adjust the menu to your your preferred spice level. If you have any special dietary needs, please inform our service team. All prices are subject to 10% service charge and 7% government
basil Vegetarian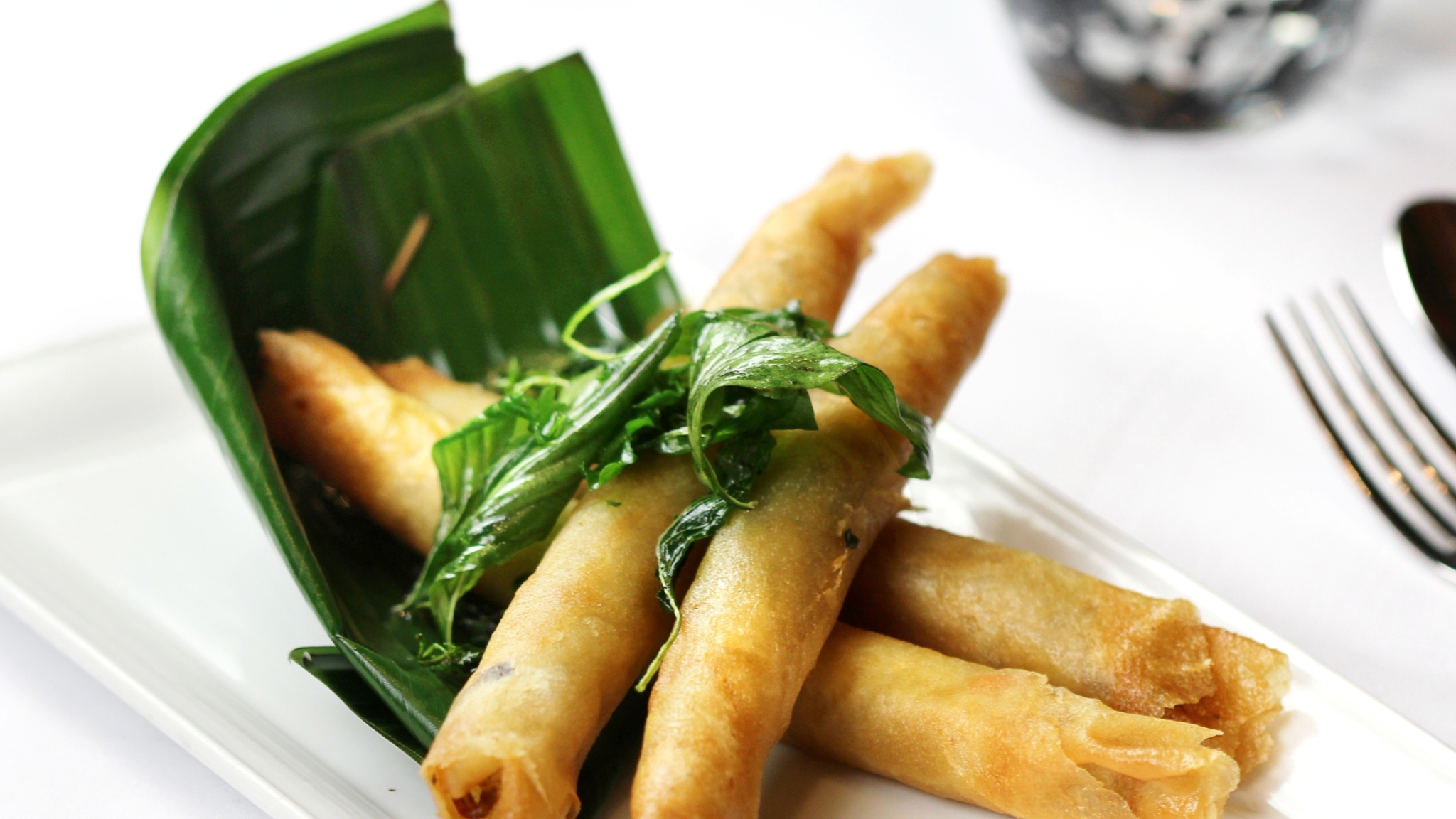 Appetizer
Poh Pia Thod J - 320
deep fried vegetable spring rolls
Laab Hed Ruam J - 320
mixed mushroom salad
Taohu Thord J - 250
deep fried tofu served with peanut sauce
Yum Ponlamai J - 320
mixed tropical fruit salad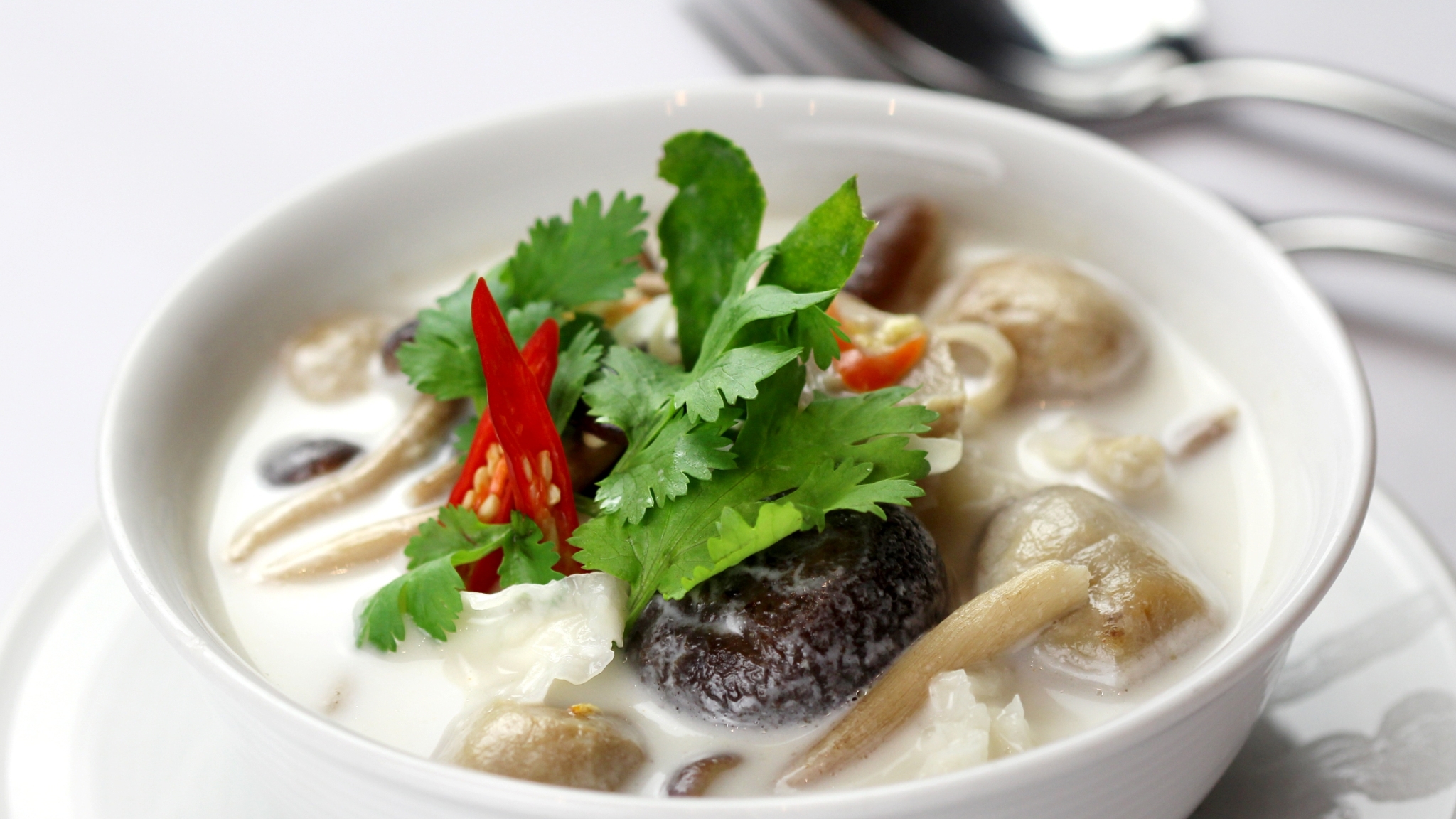 Soup
Tom Yum Hed J - 290
spicy mushroom soup with lemongrass, thai herbs
Tom Kha Pak J - 290
vegetables and tofu in coconut milk soup
Main Course
Choo Chee Pak Ruam J - 330
mixed vegetables in red curry sauce
Taohu Phad J Med Mamuang Himaphan - 330
stir fried bean curd with cashew nuts
Gaeng Kiew Waan J - 330
green curry with vegetables
Khao Phad Sapparod J - 290
stir fried rice with pineapple and cashew nuts
Taohu Phad Kraprao J - 330
stir fried crispy tofu with chili and sweet basil
Phad Pak Ruam J - 310
stir fried mixed vegetables. light soy sauce
All dishes are authentically spiced Upon request Chef Kesinee can adjust the menu to your your preferred spice level. If you have any special dietary needs, please inform our service team. All prices are subject to 10% service charge and 7% government
Children's Menu
All Day A La Carte
freshly pressed juice - 150
orange, pineapple, mango, carrot, watermelon, cantaloupe, papaya or green apple
milkshake - 150
chocolate, strawberry or vanilla
seasonal tropical fruit platter - 180
cornflakes, coco pops, rice krispies - 160
(gluten free option available) with your choice of: milk, low fat milk or soya bean milk
birchermuesli - 160
honey sweetened oats, hazelnuts, green apple, citrus zest, milk
two eggs - 160
choice of boiled, scrambled, fried or poached with grilled tomato and sauteed spinach
egg white omelet - 160
with grilled tomato and sauteed spinach
khao thom - 160
boiled rice soup with choice of minced pork, chicken or prawns served with condiments
american style pancakes - 180
(gluten free option available) choice of plain, blueberry or banana with butter, maple syrup or honey
chicken noodle soup - 220
butternut squash soup - 190
kid's club - 220
smoked chicken, avocado, lettuce, tomato, whole wheat tortilla roll
captain hook's - 260
fish finger and chips
beef burger with french fries - 260
hot dog with french fries - 200
vegetable or chicken fried rice - 220
spaghetti or penne - 240
choice of bolognese, carbonara or tomato and cheese
macaroni and cheese - 240
with ham and peas
peter pan's - 240
cornflakes crusted chicken finger with curly fries
banana split - 240
with hot chocolate fudge
picasso ice cream bowl - 180
(3 scoops)
tropical fruit salad - 180
chocolate cashew nut brownie - 240
All dishes are authentically spiced. Upon request Chef Kesinee can adjust the menu to your your preferred spice level. If you have any special dietary needs, please inform our service team. All prices are subject to 10% service charge and 7% government
Lunch: Monday - Friday, excluding public holidays

12.00 - 14.30 hours

Dinner: Daily

18.00 - 22.30 hours

Sunday Jazzy Brunch

12.00 - 15.00 hours